Order Page
What is PennyGold Worth?
What should your one-time expense (investment) be for a tool...
that will empower you with a lifetime money-earning skill;
that will turn you into a self-reliant, successful penny stock investor;
that has earned me over $150,000, starting with a mere $5,000.
What is PennyGold worth? All I can tell you is that after PennyGold purchasers use this empowering tool, they make comments like this:
PennyGold owners know its value because they know what's in it.
But you don't ...
... and that is why you have this opportunity to purchase PennyGold for much less than its true value.

Current Price
PennyGold launched in mid-October, 1997, at a price of CDN$197. As you know by now, to keep PennyGold powerful, only 1,000 copies will ever be sold.
I intended to increase the price, step by step, as fewer and fewer copies remained. The final "full price" was to be CDN$497. I expected to take three years to get there.
Wrong!
Response was so strong that we soon realized how much we had underpriced it. The price rose faster than anticipated. Even the "full price" of CDN$497 rose rapidly.
But now, the price increases are finished. We're almost done. Even at its current full price, of course, it's still an amazing bargain! Why? Because...
After the 1000th is gone, it's not for sale ... at any price.
Here's the price history to date:
October 18, 1997 -- beta-testing, CDN$197 for beta-testers
November 11, 1997 -- PennyGold launch, CDN$197 introductory price
November 16, 1997 -- price increase to CDN$249
January 26, 1998 -- price increase to CDN$269
February 16, 1998 -- price increase to CDN$287

April 9, 1998 -- price increase to CDN$349
July 8, 1998 -- price increase to CDN$387
September 8, 1998 -- price increase to CDN$427
October 29, 1998 -- price increase to CDN$447 -- V.1.5 Upgrade released, free to current owners. Beta-testers rave that PGhas pushed to an even higher plane!
January 25, 1999 -- price increase to CDN$497 -- The market is coming to life. PGPers profited while the "gurus" lost over 50% throughout 1998. And now, PGPers are flooding me with "victory e-mails." Today marks the 750th copy sold. Everyone says to increase the price. So we did!
May 14, 1999 -- price increase to CDN$587 -- With fewer and fewer copies remaining, and with PGPers reporting outstanding results, PennyGold is a bargain at any price!
July 14, 1999 -- price increase to CDN$697 -- Into the home stretch to the 1,000th and final copy. From here on, the price will climb towards its final price of $997 quickly.
September 5, 1999 -- price increase to the final full price of CDN$997 -- Only 20 copies left as of the date of this final price increase.
September 28, 1999 -- #1,000 is gone. That's it, none left. PennyGold owners will be discussing in the new PG Forums (set to start in mid-October) whether to allow any inactive owners to sell back their serial number, under carefully controlled circumstances. If you'd like to go on a waiting list, please e-mail Janice at 1000@goodbytes.com to let her know. If the PennyGold owners vote "yes" on this, Janice will contact you when your name rises to the top of the list. There is no charge to go onto the waiting list.
PennyGold was a bargain at twice its final price of CDN$997 (especially since you also receive the Advanced Investor Package -- see below). Before you decide if you want to apply for the waiting list (no charge), please realize this... PennyGold is only for the serious... those who like to do their own research and think for themselves. Please....
Take your time to be sure that PennyGold is for you. There's a lot of proof on this site -- spend a few hours to be sure.
Then, as noted above in the price history, either e-mail Janice at 1000@goodbytes.com or fill in the "Intent to Order Form" below to go on the waiting list. As soon as PennyGold owners have decided (Forums start in mid-October), Janice will let you know.
NOTE: Please... don't ask to go onto the waiting list if you are not sure about PennyGold.

A Few Recent Testimonials
Know why the price really kept going up? Take a look!

Advanced Investor Package
The full-priced PennyGold also includes a special Advanced Investor Package worth hundreds of dollars. It will complete your conversion into a skilled penny stock investor. Here's what it includes:
a six-month subscription to our three E-zines
a six-month subscription to the PGPer Digest (each issue is crammed with special new articles, advanced ideas, and cutting edge techniques from the smartest PennyGold owners -- the Digest will be converted into a private Forum for PGPers)
all back issues of the E-zines and the PGPer Digest -- an invaluable wealth of information has accumulated in these private e-zines.
all PGPer Finds (the PennyGold files of other PennyGold owners, filled with data on their favorite picks)
unlimited access to the PennyGold Research Room -- the PGPers' "digital library." It's filled with links to the very best penny stock data sites from the entire World Wide Web.

And here's a great last-second bonus -- the above amounts are all in Canada's famously feeble dollar. Convert to your currency from Canadian Dollars by using this currency converter (to use it, your browser software must be able to interpret Javascript).

The Bottom Line...
You receive the power to become a successful, independent penny stock investor ... for less than the yearly price of a subscription to many investment newsletters (which simply don't work). And ... you will own these skills for a lifetime.
Yes, a lifetime. You'll be a totally independent, self-sufficient penny mining stock investor, able to blaze your own path of smart decisions. No need to ever depend upon, or spend money on, anyone else's recommendations or analysis.
Best of all ... the TEN-times-your-money-back guarantee makes it impossible for this purchase to be a mistake.

Ordering Information
Until VISA, MasterCard, AMEX, and the other credit card companies implement SET (Secure Electronic Transaction), we'll be offering you our own simple, secure and fraud-proof ordering system.
"Secure" ... because I want your credit card information to be absolutely safe. "Fraud-proof" ... because I'm severely restricting distribution. So I can't afford a copy to fall into the hands of a credit card fraud.
IF YOU ARE FROM THE U.S.A. OR CANADA
Just pick the most convenient way (e-mail, phone, fax or regular mail) to order:
1) Send in the following Intent to Order Form via the Internet:
(All information below is kept in strictest confidence.)
OR
2) Phone us:
Leave a message with the following information:
your name;
what city and country you live in;
your phone number(s), including area code, and what time to call.
NOTE: To eliminate credit card fraud, we never answer this "live." Instead, we return your call within 2 working days (usually same day) to process your order. (So please make sure to specify what time to call you back). We will e-mail your username and password to download PennyGold within 2 hours after processing your order.
OR
3) Fax us:
Print and complete this credit card order form.
Please fax it to 450-458-1068 (signed authorization is a must).
OR
4) Mail us:
If you prefer, you can order PennyGold by regular mail.
Print and complete this "snail-mail" order form.
Send it along with your personal check, certified check or money order to the address shown on the form.

IF YOU ARE FROM A COUNTRY OTHER THAN THE U.S.A. AND CANADA
Due to the expense and time zone hassles of calling to process the orders generated via e-mail or telephone, only Options 3) Fax and 4) Snail-mail are available.
Sorry for the inconvenience. Thank you for understanding.

Click here to see more feedback about PennyGold.
Click here to see more feedback about PennyGold.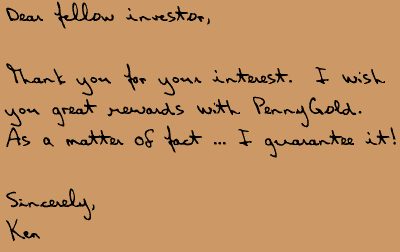 Click here to see more feedback about PennyGold.

Not Sure? Try Decision Helper!
I do not want to talk you into buying something that you won't use. We are only selling 1,000 copies, so I want them in the hands of the right people. So...
If you're not sure about PennyGold, please see what PennyGold owners have been saying. Their feedback has been most gratifying for me, and hopefully will be helpful for you.
Still can't quite believe this offer? I have a final message for you. Then please come back and try Decision Helper.
Danny Goodman, THE Javascript guru, has written a wonderful little program called Decision Helper. I offer it here to help those of you who are still undecided to come to a well thought-out decision that is right for you.
If you find this gem as useful as I do, you'll want to use it (only with Netscape 3.0+ or Internet Explorer 4+) whenever you need to think through an important decision with several possible solutions. It really forces you to think straight. Here it is.
OR ... if you'd like
a FREE copy of Decision Helper
(no PennyGold purchase necessary),
e-mail a request with "DH"
as the subject line. Type either "For MAC"
or "For WINDOWS" in the body text.
Danny Goodman has kindly allowed me
to send DH to those who request it,
as long as you don't redistribute it.

Order Form Above

Click here to see more feedback about PennyGold.

E-mail GoodByte$ if you would like to receive notification as we launch each new money-making information product (type "NOTIFY" in the subject, no body text necessary). Don't worry -- your address will be used strictly for this purpose.

Click here to see more feedback about PennyGold.



Click here for a FREE SUBSCRIPTION to PGOLD XPRESS.
Questions? Click here for answers to Frequently Asked Questions.
More questions? Call me at 450-458-1064, Mon-Fri, 9am to 5pm EST.

This Web site andPennyGold are ©1997 GoodByte$ Information Products Inc.
"PennyGold" is a trademark of GoodByte$. All rights reserved.
68 Cote St. Charles, Hudson Heights, Quebec, Canada J0P 1J0
Phone: 450-458-1064 Fax: 450-458-1068 E-mail: kevoy@goodbytes.com